AquaAudit Offers Complete Management of All of Your Building's Backflow Needs Including Testing, Installation, and Repair
Complying with New York City's Backflow Rules & Regulation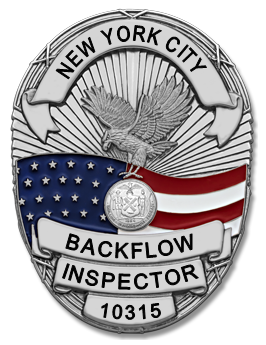 In order to protect New York City's water supply and prevent potentially contaminated water or chemicals from backing up into the public drinking water system should there be a sudden or unexpected drop in water pressure, many buildings and businesses are now mandated to install and maintain approved backflow preventers. If you do not comply with the new requirements you are subject to a costly violation and the threat of having your water shut off.
Did You Receive a Backflow Violation?
If you received an ORDER from the Department of Environmental Protection (DEP) that you premises requires a backflow prevention device and you're not sure what to do, call AquaAudit. Our team of experts will handle everything for you.
Can You Successfully Manage This Process On Your Own?
Coordinating between government agencies such as the DEP and the Department of Buildings (DOB) or hiring a Professional Engineer or Architect to have plans drawn up and approved, hiring a Licensed Plumber to install your backflow device(s). Hiring a Certified Backflow Tester to perform an initial test, hiring an Administrator to process the requisite paperwork in a timely manner is a daunting and overwhelming task to try and undertake yourself.
Complete Backflow Prevention and Management
The initial step involves performing a thorough and comprehensive site-inspection of your property in order to determine if it actually requires a backflow preventer or if it's eligible for an exemption. AquaAudit performs this necessary first step for free, at no-cost or obligation to you.
If we determine your property does need a backflow prevention device(s) we will provide you with a cost estimate detailing the entire scope of the job.
Should you wish to move forward with the project, our Professional Engineer (PE) or Registered Architect (RA) will prepare two sets of plans for your property. These plans will be submitted with two application forms to DEP's Cross Control Unit for approval. Once approved, DEP will notify you and return a copy of the plans to our Engineer or Architect.
Then, a Licensed Master Plumber must install the backflow prevention device(s) in strict accordance with those DEP approved plans. The installation must also comply with the DOB regulations and requirements.
DEP requires that all backflow device(s) must be properly maintained with annual testing and inspection by a Certified Tester on a go-forward basis.
Annual Backflow Testing & Service
To remain compliant with New York State and New York City DEP backflow regulations, building owners and property managers are required by law to have all of their RPZ's and backflow prevention devices tested annually by a Certified Backflow Tester.
AquaAudit is a licensed, dedicated and experienced testing and repair company. Our technicians can test, install and repair all makes, models and sizes of backflow prevention devices.
We handle the entire process for you – annual testing, report filings and scheduling.
We'll make certain you're up to code and avoid costly violations, court time and legal expense.
Don't Wait for a Violation – Schedule Your Annual Backflow Test Today
DEP has become more vigilant in their inspections and building owners are subject to violations resulting in costly fines of up to $1,000.00 per device.
Contact AquaAudit to add your device(s) to our annual testing schedule. Upon completion of the test, AquaAudit will place a hang-tag on your device, submit an original GEN-215B form to DEP verifying compliance and provide you with a copy for your records.
We offer guaranteed annual pricing and notify you with automatic reminders 2 months prior to each scheduled test.
The Preferred Backflow Testing Service Throughout the Tri-State Area
AquaAudit is the preferred backflow testing service of building owners and property management companies in the tri-state area and currently provides annual testing throughout the 5 boroughs of New York, The City of White Plains, all of Westchester and Rockland Counties, Long Island and New Jersey.
Frequently Asked Questions and Answers