Water Audit Services for NYC DEP Bill Inaccuracies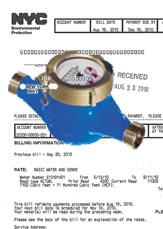 Water Audit services from AquaAudit are essential to you because billing errors seldom favor building owners or tenants, and DEP billing is known for inaccuracies that can add up to substantial sums. But most property managers—even when they suspect billing discrepancies—don't have the time, skills, contacts or overall ability to maneuver through the intricacies of a successful audit.
Every property owner can benefit by having AquaAudit perform a detailed and comprehensive water audit of its buildings. Property management firms know they stand the most to gain when they turn over their entire portfolio of buildings to AquaAudit for review.
Finding Your Water Refund
AquaAudit's water refund experts routinely recapture revenue for clients. We know exactly where to look for billing errors. We find overlapping bills, estimated bills and bills for meters that don't exist.
Our Water Audits Return Money to You, or We Don't Get Paid
We provide this service on a contingency basis, so there is never a cost to you unless a savings is earned. We've established a record of success due to our thorough analysis and our solid relationships at DEP. Contact us.
Audits and Water Meter Reading
In addition to our water meter reading and bill auditing services, we are also skilled in acquiring refunds from the Department of Finance (DOF). AquaAudit has been successful at using the same scrutiny in review of DOF billing of property taxes and other financial statements and has obtained substantial credits for clients by uncovering tax errors. Contact us.
Frequently Asked Questions and Answers