Offering Full Service Sub-Metering Installation and Support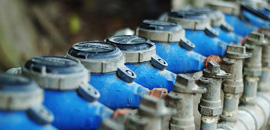 At AquaAudit, we perform all sub-meter installations with our in-house team of plumbers and meter specialists. Without a Sub-Metering system, water use by individual tenants must be estimated and averaged. Because some tenants use more water than others, the system is unfair to everyone. And when tenants don't think they pay for what they use, they're more carefree about how much they use, driving up expenses for everyone.
Meter Installation That Solves Problems While It Saves Money
Individualized meter installation allows you to accurately measure and bill individual tenants for exactly the amount of water they use. Without a sub-meter system you're never certain how much each tenant uses, so you're forced into a "one size fits all" billing arrangement. But that's not fair to anyone. Here are just some of the ways a sub-metering system can benefit you.
Accountability Everyone pays according to his/her use. Single occupancy units shouldn't be charged the same average rate as a high occupancy unit is charged. Fair is fair.
Stops the guess-work Sub-metering lets you charge for actual use every month and provides objective proof to respond to inquiries or complaints.
Conservation When tenants become aware they are directly responsible for the water they use, they pay more attention to conserving. This helps save water and saves you too by reducing your property's overall water use.
Competitive By separating water bills from rents, your building becomes more competitive.
Sub-Meter System Installation and Complete Billing Support
AquaAudit's in-house team of plumbers and meter specialists can handle all your sub-metering needs. Unlike other meter reading firms, we do not sub-contract out these installations. After your sub-meter system is installed or if you already have one in place at your facility, we can provide regular meter reading as well as complete billing support.
Frequently Asked Questions and Answers